Wireless Security Cameras
Keeping an eye on your home or business has never been easier with our interactive camera monitoring technology. Wireless cameras are available as a standalone product, or can be integrated seamlessly with a complete security system from Southwest Security. You'll have 24 hour access to all activity at your home or office through a simple login from a smart phone or any computer with an internet connection. All camera recordings are stored on a cloud server for increased security.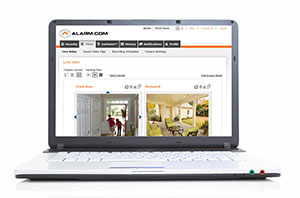 From a simple one camera add-on to an unlimited, casino grade system for your business, we can customize a wireless camera solution to fit your needs. Our indoor IP cameras offer the choice of fixed or pan/tilt viewing, and include built-in 802.11 secure wireless connectivity. Our industry leading outdoor IP camera supports Power-Over-Ethernet and ensures that activity around the property is visible, day and night.
Features
Easy setup in minutes
Watch live video on your smartphone, tablet, or computer
Get camera alerts instantly sent to you via text or email
Schedule recordings when there is motion, a door opens or if the alarm goes off
Secure offsite video storage
Alarm and motion-triggered video recording
Indoor and outdoor IP camera options
IP camera server retrofits any analog camera
No special gateway required
Integrates with our security platform
Wireless cameras are not completely wireless! While the camera is wireless, the camera still needs power. Your wireless camera will need a power source near the mounting location. This is part of your customized solution when you work with Southwest Security.
Monitoring Your Home
See who is at your entry door, keep an eye on your children, and watch your home while you are away. You can view your household cameras remotely via a secure Internet website.
Monitoring Your Business
A perfect solution for the business owner that travels yet still wants to keep an eye on the store.